A reference letter
for our Blog Coaching services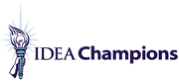 February 7, 2008
Dear Bill,
Thank you very much for all the fine work you've done to help Idea Champions create and launch it's very successful Heart of Innovation blog. As you know, I'd been wanting to do this for the past three years, but never "got around" to it. Even though I always knew blogging was simple, in retrospect I see now that I was stuck. The blog was "on my list of things to do," but never rose to the top..
Your efforts, insights, and support were the missing piece. You helped me sort through the choices, consider my options, and made some very insightful recommendations. I appreciate all your flexibility, responsiveness, and commitment to see this project through to the end.
Even though I am not a "technophobe," I needed the guidance and coaching of someone who was familiar with the art and science of the blogosphere – you! I especially appreciated the various ways you found to get my attention, keep me on track, and teach me what you know. Hey! Now I know it – and am finding all kinds of cool ways to integrate the Heart of Innovation blog into our overall efforts of getting the word out.
I see your blog consulting service as a kind of "chiropractic adjustment." You have a light touch, know what you're doing, and are all about the "health" of your clients. I know I could have gotten most of the information you shared with me via books and the internet and yes, other blogs, but I realize now I needed the human touch – the Walk Me Through It school of education.
So thanks again for hanging in there with me and helping manifest a "good idea" into a bottom-line reality. Feel free to use me as a reference. I'll do what I can to help you spread the word.
All the Best!
Mitch Ditkoff
President, IDEA CHAMPIONS