We'll help:
Pick the best solutions: computers, software, Web, publishing, phones, etc.
Get connected and started
Fix what's not working
& Teach you how to
Do It Yourself
You are confronted with a dizzying array of technologies and options that say they'll empower your life or your business.
computers and software
networks and the Internet
cell phones and iPhones
and always more...
All these tools can dramatically increase your reach and responsiveness –—
The typical small business is one person, or a pair, or a handful of people. You can't possibly be up on all the issues and personally take care of everything.
When you need to pick out a new tool, you may feel like you're shooting in the dark -- you just don't have the time to gather enough information and really understand all the choices.
(Advice from our 'blog:
"Never Buy The 1.0 Version of Anything"
(-- from "Endless Vistas of confusion", Feb '07)
You also know it could take you hours to install a new program or gadget -- that someone experienced could do in a quarter of the time, so you could get then just get to work.
We'd be happy to help with all that. If you bought some technology that's not working for you, write and let's see if we can get your project going again.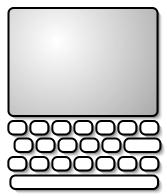 ©
Training conducted:
2004-08: "Drumming Up Teamwork" (through Idea Champions, NY):
Ongoing sessions for GE marketing managers at GE's training campus, Crotonville, NY, and other locations
Write to:
bill @ _
rosswriting_._com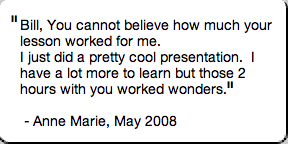 For instance, just lately we've:
Advised and trained a conference center moving their mailing list to a new FileMaker database
Trained in Powerpoint
Advised a production company on upgrading their systems for HD video editing
Helped companies & people quickly launch their Blogs


Helped various people get their photos off their camera and on to a web page
...another to move video from analog VHS to digital, edit, upload clips to YouTube, and show them on their own site!
Helped someone set up a site to sell their art on t-shirts
Added other content to websites, including music, articles, web layouts...
Laid out a print magazine in Quark, workbooks and manuals in Word
Tutored on Excel spreadsheets
Many more...
Recommended, installed, fixed:
new computers
DSL, cable and wireless setups
firewalls, anti-spyware, etc.

"Thanks for giving me the best night's sleep I have had in weeks, since I'd been worrying about this project!"
- Ellen C.

REASONABLE RATES

20 years experience in applying technology to small business and homes
Fully independent: we gain nothing by recommending one product over another.


General PC troubleshooting
& training, too


Is your computer really working for you? Are you able to do all the work (and have all the fun) you thought you could with it?

Handling firewalls, viruses and backups alright on your own?

If any of those answers are "no," give us a call and let's take care of business.