#1 rated New Age artist
for 2 weeks running on Download.com Music's
New Age Audience Picks chart

REVIEWS
Here's what some people have written about or to us:
"Innovative, brilliant, alluring pieces; unique sound, great vocals & mix"
(5 stars)
"These people have a unique style, expansive and relateable, on the edge of percussive and vocal innovation. 'Full Moon Walking' is an extraordinary blend of vocals and instrumental melodies - see how this track soars.
"Through out the CD there is an exceptional sound, with surprising great vocal melodies. I enjoyed it immensely."
- Jim O'Brien,
formerly of KCFR, Denver public radio
~~~
"I've enjoyed your CD very much. Really good energy & development.
I hope to hear more."
- Steve Gorn, Classical Indian music bansuri flutist and international recording artist.
(Steve has recorded and performed with Paul Simon, Tony Levin, Jack DeJohnette, Glen Velez & many more.)
~~~
"You've got some SWEET STUFF on that CD."
It may be the name of the project, or of the CD, or of the group,
but that's what we call,
"The Warblehead Union"
Now available on iTunes
We are really delighted to have all the tracks from the CD now individually available from the iTunes Store, at the traditional 99 cents apiece.

(Note: That link will open in iTunes on your computer)

You can listen to 30 second previews of the tunes in the iTunes Store; longer previews are available here, where:
Our CD is available on CDBABY.com
"The Warblehead Union" album, quality studio recordings of 16 tracks, 67 minutes of deepening mood, is available for $12 +ship/handle on CDBaby. You can hear excerpts of the tracks there.

The CD was mostly recorded by Dave Cummings at Bluetone Studio in Somerville, Mass. Two tunes were recorded in performance at Acorn Studios (pix below,) during the Marblehead Arts Festival in July '03.

Warblehead Union tracks finished up rated 4.5 out of 5 and in the top 15 New Age/Ethnic Fusion Audience Picks
on the late Music site of Download.com, who recently pulled the plug on the service.

(All music & images © 2006 by Bill Ross and other composers as noted.)
---
Pix
From our 2007 performance at the Freezepeach, NYC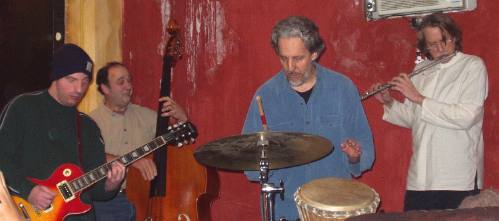 Fran McConville, guitar; Michael Kehn, bass;
Bill, percussion/vocals; Ben Sheppard, flute
From a performance at The Acorn Gallery, Marblehead, Mass.

(Daniel Rowe, Bill, & Claire Wilson)

Now, in 2010...—
Sympatico, Woodstock's melodious rhythm unit